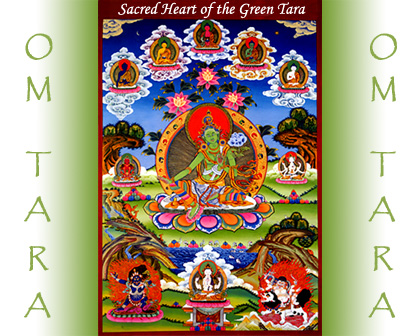 As the Mother of all Healing, the Green Tara shelters All beings in Her Loving embrace and is the Spiritual Bestower of all Health, Upliftment and Well-Being.

The loving embrace of the Goddess Tara radiates outwardly as Kindness, Compassion and Healing for All from worldly or spiritual concerns.

May the powerful blessings of Peace, Health, Wealth and Love be Yours.

May the prayers of all Bodhisattvas and the blessings of all Spiritual Beings enter your heart and hold in their hands all your precious needs. May all your needs be exactly what you intend and may your intentions move in you, from you and return to you with the strength and the power of Living your Life as Divinity Now! So be it!



" May the wicked become good,
May the good obtain peace,
May the peaceful be freed from bonds,
May the free set others free."
- Prayer of a Bodhisattva
Namasté
Om Tara Tare Tam Svaha
Pnum: 115160
Beloved Father, Divine Mother, I pray for Hannah & Michelle H who are grieving the sudden loss of Barry H who is Hannah's dad, Michelle's husband who passed unexpectedly of cardiac arrest Monday. Hannah is my niece's dear friend. I pray Barry goes to the light of his highest God. May Hannah, Michelle & all their friends & family feel blanketed with love. I pray for all those who have lost a loved one to experience loving compassion & support. I pray for PEACE NOW & ALWAYS. Thank you. So Be It.

Om Tara Tare Tam Svaha
Pnum: 115159
My Beloved Mafu, I pray for my dear friend Anita A., who passed her body May 29th from a brain tumor. I pray Anita easily passes into the light and is embraced as the love that she is. May Anita be held in love by the God she worships and become that love. May Anita's family and friends be comforted at this time. God bless you sweet Anita. You gave so much love.

Om Tara Tare Tam Svaha
Pnum: 115158
Beloved Father💗Blessed Divine Mother💗Lord Isa Mafu💗Lord Sananda Jesus💗 I love You. Thank You for all of my blessings🙏 I pray for Divine Grace to please help me heal the injured tendons in my upper arms and shoulders. I pray that I will again see and hold my little grandson again. I also pray that like so many the borders reopen and I can see and touch my family again, that this isolation finish soon for us all. Please touch everyone and heal them. May all suffering be over. Thank You

Om Tara Tare Tam Svaha
Pnum: 115157
Thank You! Thank You! Thank You beloved GURUDEV & cherished SWAMI Ammaji! Blessed, blessed, blessed are we! Such gratitude for the privilege of hearing the GURU'S Darshan! To join in chant.YES! All are healed from all viruses NOW & ALWAYS!YES! WE honor & respect our Sacred Mother Nature!YES! We open our minds & hearts to know we are ONE! YES! God bless all healing with perfect treatment & care! God bless all who've passed & their loved ones with peace! AUM AHIMSA AUM! AUM SANTI SANTI SANTI AUM!

Om Tara Tare Tam Svaha
Pnum: 115156
Beloved Sri Isa Mafu, Beloved Swami, Holy Mother Mary, another Teresa, I call to you and the angels to gently, softly guide home my beautiful, powerful mother-in-law whom we all call Mommy. I pray for her to feel you & us with her there, for the hands of the caregivers to be so kind and sweet. I pray please ease her body and mind if any concern. Though we cannot be there in person, pls help her feel the of all who love her, here & beyond. Pls bless our Lorenza with peace with you. Thank you

Om Tara Tare Tam Svaha
Pnum: 115155
Beloved One i pray w Ana Lisa to know full healing of the wounds of her legs, that her circulation flows easily to facilitate the healing and the swelling of her legs subsides. Father Bless her Healing of underlying conditions for her to live in Health & comfort in her body. i give thanks for All Blessings for her Life Shanti Shanti Shanti NamMyohoRenge Kyo NamMyohoRengeKyo NamMyohoRengeKyo NamMyohoRengeKyo NamMyohoRengeKyo NamMyohoRengeKyo NamMyohoRengeKyo NamMyohoRengeKyo NamMyohoRengeKyo Amen

Om Tara Tare Tam Svaha
Pnum: 115154
Beloved Father, Sri GuruDev Isa Mafu, i Celebrate my grandson Murdo graduating from High School. He is an outstanding young man, scholar & athlete, caring older brother, eats Healthy & Fun sense of humor. i pray that in this unusal changing time in our World as he enters the next level of his life, please guide him to his highest calling that will serve him & the future Life & our Planet in the Happiest way. I pray this for all young men & women graduating to be so guided NMRK NMRK NMRK TYGod OM

Om Tara Tare Tam Svaha
Pnum: 115153
Thank You for blessing Analisa with sustainable healthful longevity. Please clear the lymphema from her legs and remove all inflamation. I pray her medical team is divinely guided to the perfect antibiotic that removes all infection in Analisa's legs and brings her comfort now. Please bless the circulation in her body and her legs to be clear and healthy. I pray for Analisa's perfect healing, for her comfort, courage, strength and faith. So be it, thank You God. Nam Myoho Renge Kyo.

Om Tara Tare Tam Svaha
Pnum: 115152
Please bless Mapremananda with sustainable healthful longevity. I pray that anything in her body that doesn't serve Life becomes as a scab, shrinks and disappears forever. I pray that Mapremananda easily and comfortably receives all treatments as the Elixir of Life and that they bless her with complete, perfect healing and pure Life in every cell of her body. I pray this for all in need of healing, courage and strength. So be it, thank You God. Nam Myoho Renge Kyo.

Om Tara Tare Tam Svaha
Pnum: 115151
Beloved Goddess Mother, I pray for her to be surrounded by Your love and comfort. Please bless her with peace of mind and take away her fears. Please guide her family to care for her as she deserves during this time. Thank You for blessing her daughter with peace of mind and forgiveness and the absolute knowing that she herself is good and pure. I pray for all mothers preparing to pass to be in peace and comfort and for their daughters to have closure. Thank You God. Nam Myoho Renge Kyo.

Pg 1 of 88