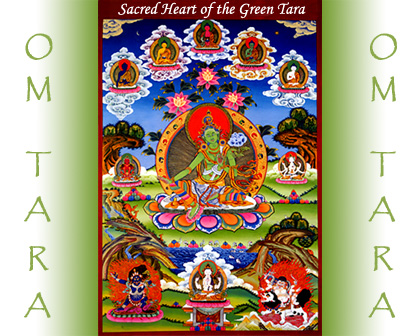 As the Mother of all Healing, the Green Tara shelters All beings in Her Loving embrace and is the Spiritual Bestower of all Health, Upliftment and Well-Being.

The loving embrace of the Goddess Tara radiates outwardly as Kindness, Compassion and Healing for All from worldly or spiritual concerns.

May the powerful blessings of Peace, Health, Wealth and Love be Yours.

May the prayers of all Bodhisattvas and the blessings of all Spiritual Beings enter your heart and hold in their hands all your precious needs. May all your needs be exactly what you intend and may your intentions move in you, from you and return to you with the strength and the power of Living your Life as Divinity Now! So be it!



" May the wicked become good,
May the good obtain peace,
May the peaceful be freed from bonds,
May the free set others free."
- Prayer of a Bodhisattva
Namasté
Om Tara Tare Tam Svaha
Pnum: 116255
Please help us end the war in Ukraine. I pray putin's soul opens to the Light. Please let global pressure put an end to this agression. I pray for peace in Ukraine and everywhere. Please bless those who have passed to be in their heaven, all who are suffering to be comforted, with medical care, please bless everyone with water, food, medicine, safe shelter, faith, support, healing and help all families stay together. I pray especially for the children. Please. Thank You God. Nam Myoho Renge Kyo.

Om Tara Tare Tam Svaha
Pnum: 116254
Thank You for blessing our Foundation with sustainable financial wealth and 67 million dollars. Thank You for our many wonderful donations that bless us with all we need and more to share. Thank You for blessing Ammaji with strength, swift perfect healing, comfort in her body, deep healing sleep, great happiness, prayers answered to their highest potential and sweet peace of mind. Please bless OTS with protection, safety, health, peace, abundance and joy. Thank You God. Nam Myoho Renge Kyo.

Om Tara Tare Tam Svaha
Pnum: 116253
Please fill every cell of mandi's precious mother, maureen with Your Healing Grace. I pray that anything in her body that doesn't belong turns to dust and disappears forever. i pray all medical treatments are received by maureen as the Elixir of Life that blesses her with sustainable healthful longevity, great peace and happiness. please bless mandi and her family with comfort, strength, faith and all they need for peace of mind. i pray this for all in need. Thank You God. Nam Myoho Renge Kyo.

Om Tara Tare Tam Svaha
Pnum: 116252
Beloved GuruDev Sri Isa Mafu, please surround my sister's family with Your Healing Grace. Please remove the covid virus from my sister's daughter lauren, her husband james, their children wyatt and cal, (who is 1-1/2) her son adam and his fiancee emily. please let there be no long effects from this virus. please keep my sister and her husband protected. I pray for everyone who is infected with covid to be healed, have all they need to recover and be at peace. Thank You Mafu. Nam Myoho Renge Kyo.

Om Tara Tare Tam Svaha
Pnum: 116251
Beloved Lord, Divine Goddess, Blessed Ammaji I enter here to pray for my brother J. Gregg P who is having a hip replacement today. I see his doctors' and nurses' hands as the hands of God. I see perfect surgery and a rapid and thorough recovery, and Gregg returning to his life in comfort and joy. I see this for all having surgery today. TYGFIID. Om shanti.

Om Tara Tare Tam Svaha
Pnum: 116250
I continue to pray for the recovery of my sister Micheline, who from home, needs a lot of health care and may or may not have the strength to choose life. If it is for highest good, I pray that she choose life and recovers well and continue to live with ease, peace and joy. I also pray for our good friend Mark who is fighting for his life in a hospital. That he finds peace as well as his wife for the best outcome for their highest good and the highest good of the Universe. Thank you.we Love you

Om Tara Tare Tam Svaha
Pnum: 116249
Beloved Isa Mafu, Dearest Ammaji, Great Beings of the Universe who are aligned with us, I ask that you join my prayer for the recovery of my beloved brother Gilles who was rushed to the hospital for a stroke. I pray that he finds within himself his joy of living and the will to do so...that he finds peace with his life, the life around him and choose to live...if it is for his highest good and the highest good of the Universe. Thank you, we love you profoundly 🙏🏻🙏🏻🙏🏻♥️

Om Tara Tare Tam Svaha
Pnum: 116248
Aum Guru Aum, Aum Shiva Aum, we pray now for immediate and continuing rain-free, clearing skies over all northern New South Wales, Australia communities; so that all families may now return to reclaim and repair their flood-damaged homes. NMRK NMRK NMRK Thank you God!!

Om Tara Tare Tam Svaha
Pnum: 116247
On this Mother's Day I pray especially for the women of Ukraine, those who are still there and those who have escaped with their children to other countries. May they and their families find peace and have all their needs taken care of. May there be peace in Ukraine. May something happen to move Putin to withdraw all his troops. I pray for peace on earth & every where for all living beings. Thank you, thank you. Nam Myoho Renge Kyo, Nam Myoho Renge Kyo, Nam Myoho Renge Kyo

Om Tara Tare Tam Svaha
Pnum: 116246
Aum Namah Shiva Aum Om Guru,Om Guru,Om Guru I Pray for all Mothers on earth and all universe to be enlightenment of there experience of maman to be protected.From the Love ❤️ of our Guru Sri Isha Mafu I pray for our lovely Ammaji she is so special and lovely person Mafu thank you so much for being in my life thank you so much Ammaji for what she's doing for all of us in by your Grace.Peace on earth and everywhere for all living beings always.Happy Mother Day's Aum Namah Shiva Aum ❤️🙏❤️🙏❤️🙏

Pg 1 of 185