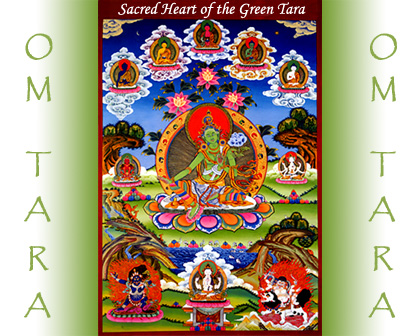 As the Mother of all Healing, the Green Tara shelters All beings in Her Loving embrace and is the Spiritual Bestower of all Health, Upliftment and Well-Being.

The loving embrace of the Goddess Tara radiates outwardly as Kindness, Compassion and Healing for All from worldly or spiritual concerns.

May the powerful blessings of Peace, Health, Wealth and Love be Yours.

May the prayers of all Bodhisattvas and the blessings of all Spiritual Beings enter your heart and hold in their hands all your precious needs. May all your needs be exactly what you intend and may your intentions move in you, from you and return to you with the strength and the power of Living your Life as Divinity Now! So be it!



" May the wicked become good,
May the good obtain peace,
May the peaceful be freed from bonds,
May the free set others free."
- Prayer of a Bodhisattva
Namasté
Om Tara Tare Tam Svaha
Pnum: 115870
Bless you bless you bless you Beautiful Andre and your great love Melanie. I can feel the great love you both shared. Blessed be Melanie may she fly into her greatest heaven as LOVE and may you find peace and support Andre in your grieving. SO BE IT ! Blessed be nammyohorengekyo nammyohorengekyo nammyohorengekyo AUM NAMAH SIVA AUM

Om Tara Tare Tam Svaha
Pnum: 115869
Aum Namah Shiva Aum Dears Beloved Ammaji Om Guru Shri Isha Mafu Melanie my Lovely wife she passed today Iuse the sacred Mantra for her for the passage and after immediately she have a great smile on her face and she live the body eyes closed like we sleep thank you dears beloved Ammaji Thank my Love for the Grace Om Guru Om Guru Om Guru please take care of her Maman and Papa I Love you Melanie Valliere thank you for your beautiful smile Aum Namh Shiva Aum

Om Tara Tare Tam Svaha
Pnum: 115868
I offer my prayers to the family and friends both physical and spiritual of dear David G. His Kindness, Generosity of Spirit and Love of the Wisdom have been a Blessing to All he touched. Nam Myoho Renge Kyo

Om Tara Tare Tam Svaha
Pnum: 115867
Beloved Father God, Sri GuruDev Isa Mafu, Blessed Be Ammaji~ i pray for the full recovery of people of different ages Healing from covid virus, esp those hospitalized~ that their Oxygen levels rise & stablize & Breathing is consistently Easier. Yes! God Bless each precious life w strong Immune systems.Yes! GodBless Mara N & Marc to recover swiftly easily as Mara' body easily receives treatments ~ Yes! I pray this for everyone healing covid virus NMRK NMRK NMRK ThankYou God.Guru.Goddess Amen AUM

Om Tara Tare Tam Svaha
Pnum: 115866
Sweet David G., I am grateful for your life and for who you are. Thank you for all the compassion, peace, love, and happiness you gave. You are a beautiful being.

Om Tara Tare Tam Svaha
Pnum: 115865
Beautiful David G of the One, thank you so much for being on the planet with us and sharing your kind, loving spirit and incredible discipleship with all of us. I pray that you are in total joy in the arms of the Guru, our Sri Guru Dev Isa Mafu. How could you not be, being you. I pray with all my heart for your family, spiritual family and friends who must be feeling such loss right now. I pray they know peace. God Bless You so much, David. Nam Myo Ho Renge Kyo.

Om Tara Tare Tam Svaha
Pnum: 115863
Thank you dear David G for sharing your incredible love and wisdom with me. I am blessed to have known you. You are one of those amazing people who leave everything they find more beautiful and I am blessed to have been one of those people who got to experience this rare quality. Thank you for being ongoingness forever-

Om Tara Tare Tam Svaha
Pnum: 115861
Blessed be Louise Hughes. May she find her way into the Guru's arms.

Om Tara Tare Tam Svaha
Pnum: 115860
Beloved Guru Sri Sri Isa Mafu--Blessed Swami Ammaji - I offer a prayer for my dearest Brother David G--thank you for walking this Way with us for a time-for the many journeys we ventured on & stories we shared as we listened to Mafu reviews to bring wisdom into our hearts & to your great great music choices///You transitioned so fast & are now in the Heavens of our Guru's Grace--I'm Happy you're with friends--you are a Great One that is for Certain --Bless your dear Scotty Judy & Bruce.. Shalom

Om Tara Tare Tam Svaha
Pnum: 115859
Please uplift the suffering of all affected by the corona virus. I pray for all renters to be able to stay in their homes and for landlords to be stable. I pray for sustainable financial wealth for all people, safe shelter, healthy food, medical care, child care, good jobs, protection. I pray everyone receives the vaccine, and wears masks and social distances. I pray to keep the children safe and for all frontline workers and caregivers to be safe, protected. Thank You God. Nam Myoho Renge Kyo.

Pg 1 of 150