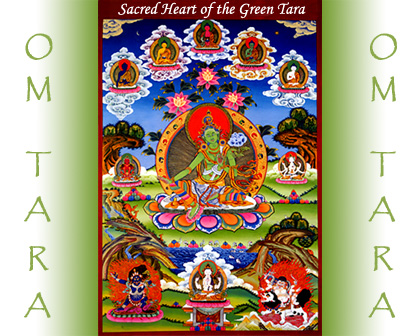 As the Mother of all Healing, the Green Tara shelters All beings in Her Loving embrace and is the Spiritual Bestower of all Health, Upliftment and Well-Being.

The loving embrace of the Goddess Tara radiates outwardly as Kindness, Compassion and Healing for All from worldly or spiritual concerns.

May the powerful blessings of Peace, Health, Wealth and Love be Yours.

May the prayers of all Bodhisattvas and the blessings of all Spiritual Beings enter your heart and hold in their hands all your precious needs. May all your needs be exactly what you intend and may your intentions move in you, from you and return to you with the strength and the power of Living your Life as Divinity Now! So be it!



" May the wicked become good,
May the good obtain peace,
May the peaceful be freed from bonds,
May the free set others free."
- Prayer of a Bodhisattva
Namasté
Om Tara Tare Tam Svaha
Pnum: 116248
Aum Guru Aum, Aum Shiva Aum, we pray now for immediate and continuing rain-free, clearing skies over all northern New South Wales, Australia communities; so that all families may now return to reclaim and repair their flood-damaged homes. NMRK NMRK NMRK Thank you God!!

Om Tara Tare Tam Svaha
Pnum: 116247
On this Mother's Day I pray especially for the women of Ukraine, those who are still there and those who have escaped with their children to other countries. May they and their families find peace and have all their needs taken care of. May there be peace in Ukraine. May something happen to move Putin to withdraw all his troops. I pray for peace on earth & every where for all living beings. Thank you, thank you. Nam Myoho Renge Kyo, Nam Myoho Renge Kyo, Nam Myoho Renge Kyo

Om Tara Tare Tam Svaha
Pnum: 116246
Aum Namah Shiva Aum Om Guru,Om Guru,Om Guru I Pray for all Mothers on earth and all universe to be enlightenment of there experience of maman to be protected.From the Love ❤️ of our Guru Sri Isha Mafu I pray for our lovely Ammaji she is so special and lovely person Mafu thank you so much for being in my life thank you so much Ammaji for what she's doing for all of us in by your Grace.Peace on earth and everywhere for all living beings always.Happy Mother Day's Aum Namah Shiva Aum ❤️🙏❤️🙏❤️🙏

Om Tara Tare Tam Svaha
Pnum: 116245
Beloved father I love you I pray on this day for peace on earth and everywhere for all living beings. I joined it worldwide prayer for an immediate peaceful resolve between Ukraine and Russia I pray for immediate ceasefire for communities Russian and Ukraine to come together to rebuild and reunite in love and compassion peace and harmony family to family brothers and brothers aum namah siva aum Thank you God Thank you goddess thank you Guru


Back to Top